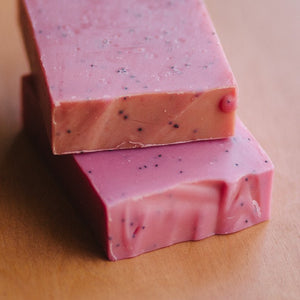 Verano Bathery
Verano Bathery Soap - Prickly Pear
Inspired by Phoenix's own Desert Botanical Garden: a fruity blend that captures the sweetness of prickly pear with the bright scent of peaches and ripe berries.
A creamy cold process soap with nourishing avocado oil, Shea Butter and jojoba oil to keep your skin soft and moisturized.
As it is with handmade products, each bar varies slightly in weight and appearance, all bars are cut at 4" x 2.5" x 1", weighing about 5 oz.
Ingredients: saponified oils (olive oil, coconut oil, avocado oil, shea butter, castor oil, jojoba oil), fragrance, mica colorant, poppy seeds