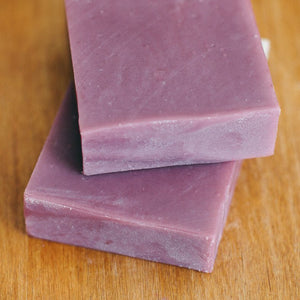 Verano Bathery
Verano Bathery Soap - Pomegranate & Black Currant
A dreamy blend of sweet pomegranate and black currant -- confession: this soap smelled so good, I left it by my bed after I made it.
Creamy cold process soap, with nourishing avocado oil, mango butter and jojoba oil to keep your skin soft and moisturized. Each bar varies slightly in weight and appearance, all bars are cut at 4" x 2.5" x 1", weighing about 5 oz.
Ingredients: Saponified oils (olive, coconut, avocado, jojoba, castor), saponified shea butter, fragrance, mica colorant, natural oxide, activated charcoal.