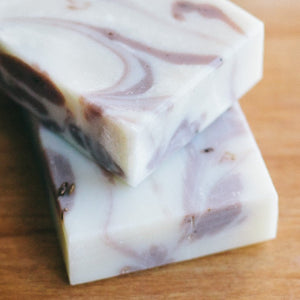 Verano Bathery
Verano Bathery Soap - Lavender
Swirls of aromatic lavender buds, ribbons of purple Brazilian clay, and a generous splash of pure, therapeutic lavender essential oil. This soap is not messing around when it comes to soothing and calming. Seriously.
A creamy cold process soap, with nourishing avocado oil, Shea Butter and jojoba oil to keep your skin soft and moisturized.
As it is with handmade products, each bar will vary slightly in weight and appearance, all bars are cut at 4" x 2.5" x 1", weighing about 5 oz.
Ingredients: Saponified oils (olive oil, coconut oil, avocado oil, shea butter, jojoba oil, castor oil), lavender essential oil, purple Brazilian clay, lavender buds.