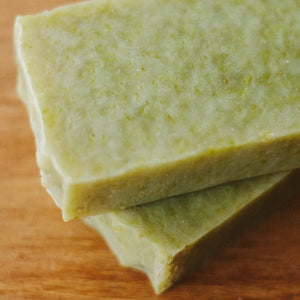 Verano Bathery
Verano Bathery Soap - Cucumber Mint
With fresh cucumber puree and the delicious smell of mint, this soap will leave you feeling refreshed and cool as a cucumber.
Creamy cold process soap, with nourishing avocado oil, Shea Butter and jojoba oil. Handmade, by us, in our very own kitchen.
As it is with handmade products, each bar varies slightly in weight and appearance, all bars are cut at 4" x 2.5" x 1", weighing about 5 oz.
Ingredients: Saponified oils (olive, coconut, avocado, jojoba, castor), cucumber puree, saponified Shea butter, spearmint essential oil, dried herbs