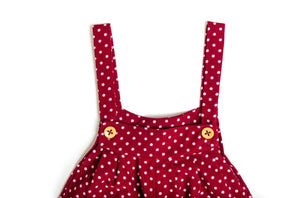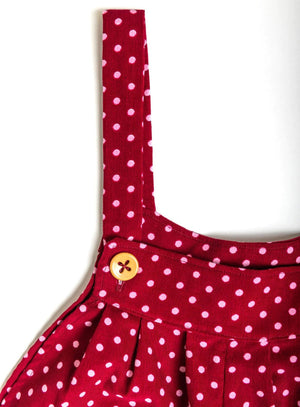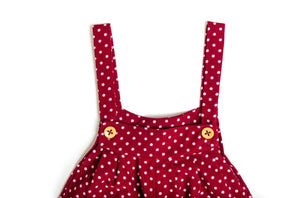 Punkwasp
Punkwasp Polka Dot Romper
The comfort of your favorite t-shirt hooked up with the ease of overalls and this is the result. Step into the deadstock polka dot courdoroy softness, fasten the antique flower buttons, and voila! A laid-back look that flows in the bowl at the skate park (you can even hide your butt pads underneath!) or a jaunt to the beach with your bikini underneath. Complete with pockets so deep you can leave your purse at home.
Materials Matter: Made from deadstock corduroy  with vintage flower buttons.
Made by Badass Women for Badass People:Designed in California by Carrie Marill. Born in the hands of seamstresses in Arizona.
Easy Care: Machine wash cold and low tumble with a quick hang to avoid the twist in the straps. 
Fit Notes: This style generally runs a little small so sizing up is recommended if you're in between sizes.