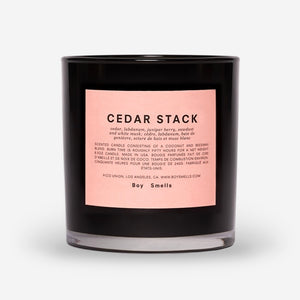 Boy Smells
Boy Smells - Cedar Stack
cedar, labdanum, juniper berry, sawdust and white musk
A prettier take on the classic wood scent—cedar chips and dried tobacco are led into deeper spiced floral notes of labdanum, while notes of peppercorn add a light bite to this smell, both modern and nostalgic. It's instant glamping in candle form.

Coconut and beeswax blend with braided cotton wick, in glossy black glass tumbler. 
Comes in embossed matte pink carton.
8.5 ounces (240g). 3.4 inches (8.6cm) tall.