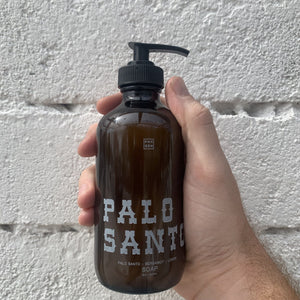 Phoenix General
PHX GEN Hand Soap - Palo Santo Bergamot Lemon
PHX GEN Apothecary. Made in-house, Phoenix General's liquid soap will leave hands cleansed and moisturized with smokey notes of Palo Santo plus hints of zesty bergamot & lemon. Crafted with organic ingredients, our hand soap is the perfect companion to any bathroom or kitchen sink. 
Vegan and cruelty free.
Made in the Sonoran Desert, USA. 
Ingredients: Organic Palo Santo, Bergamot, Lemon, & Aloe Leaf Juice, Sodium Lauryl Sulfoacetate, Cocamidopyl Betaine, Disodium Laureth Sulfosuccinate, Glycerin, Phenoxyethanol, Organic Lavender Flower Water, Roman Chamomile Flower Water, Organic Jojoba Seed Oil, Rosehip Seed Oil, Hydrolyzed Wheat Protein, Provitamin B5, Vitamin E, Sunflower seed oil, Tetrasodium Glutamate Diacetate.