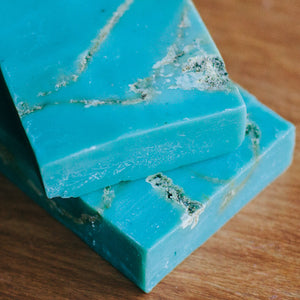 Verano Bathery
Verano Bathery Soap - Isla Verde
Take a voyage with lime and cedarwood essential oils, plus a splash of Bay Rum. I'm thinking, a dock someplace in the carribean? A sailboat in the tropics? Either way, enjoy this sea colored bar with waves of sea salt and sea kelp to nourish your skin and give you some inspiration for your next getaway.
A creamy cold process soap, with nourishing avocado oil, Shea Butter and jojoba oil to keep your skin soft and moisturized.
As it is with handmade products, each bar will vary slightly in weight and appearance, all bars are cut at 4" x 2.5" x 1", weighing between 5 - 5.5 oz.
Ingredients: Saponified oils (olive oil, coconut oil, avocado oil, shea butter, jojoba oil, castor oil), essential oils (lime, cedarwood), fragrance, spirulina, blue-green oxide, activated charcoal, sea salt.